Corporate Discount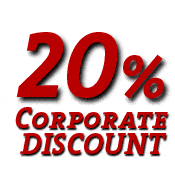 PDHengineer's Corporate Discount Program gives you up to a 20% discount off all courses and webinars. Companies with 5 or more professional engineers on staff are eligible to apply. It's easy to sign up, and there is no cost to your company.
To see if your company already has a PDHengineer Corporate Discount Code, just enter your work email address below, and we'll check for you. If your company is a member of our program, you will immediately receive an email with the discount code. Otherwise, you'll be given an opportunity to sign up to participate.
If you are certain your company does not have a PDHengineer Corporate Discount Code, you can bypass this step and sign up here.