How PDHengineer Webinars Work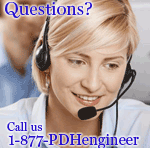 It's easy ... and it doesn't take a computer guru to figure it out. At the time of the webinar, you will view the presentation in an online conference room. You will hear and be able to talk to the instructor and other attendees using either a telephone or your computer's audio and microphone. It's just like being there without all the hassle. There's no travel expense and no wasted time in the car. And, since this is a live webinar with a live instructor, you can ask specific questions and get advice from both the instrutor and the other participants.
How to Connect to the Webinar
To attend the webinar, you'll need a computer or a mobile device with an internet connection in order to view the video presentation. You will establish your audio connection with either your computer's audio or a telephone. For your comfort, it is recommended that you use a speakerphone or headset to connect to the webinar. Our system supports both PC's and Apple computers. And, if you prefer to connect with an Android-based tablet or an iPad, apps are available on either Google Play or the Apple Store.
Upon purchase of the webinar, you'll be emailed a receipt that includes webinar access information. The same information is also available at any time by logging in to your PDHengineer account and selecting My Courses. To make it even easier, about 24-hours before the webinar begins, you will receive an email with a direct link to the webinar conference site. Just click the link, then follow direction to connect your audio. We suggest that you log in about 10 minutes before the scheduled start of the webinar.
That's all there is to it! And remember, if you need any help accessing the webinar, you can call our Customer Service Team at 1-877-PDHengineer (1-877-734-3644).