Are you a professional engineer?
Do you excel in your area of practice?
Do you have good presentation skills?
If so, we want to hear from you. PDHengineer is looking for subject matter experts (SMEs) to present webinars to other engineers.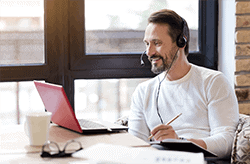 Presenting a webinar is an easy way to develop a substantial side revenue stream without a large investment of time. Plus, you'll be helping your fellow engineers by sharing your knowledge and insights.
Your choice of webinar subject is based on your education and experience as a professional engineer. Share your knowledge in a lively discussion-based format from the comfort of your own home or office. Unlike an on-site seminar, there is no travel required. You can present the webinar from anywhere you have a high speed internet connection and a phone line to connect.
The video component of the webinar is distributed over the internet using a PowerPoint presentation. Audio is delivered to webinar participants using either a phone line or their computer's built-in audio. You simply make the live presentation just as if you were in front of the audience. The webinar attendees can ask questions and interact with you at all times.
It's an interesting and easy way to make a contribution to your profession. We offer flexible scheduling of webinars to fit your calendar, and it can be quite lucrative — PDHengineer has paid out more than $7.5 million in royalties to webinar instructors and course authors who work with us on a part-time basis.