PDHengineer.com has a long history of providing high-quality continuing education courses for professional engineers. We're proud of our track record of state board approvals. In fact, we're so confident about the acceptability of our courses that every course you take comes with The PDHengineer Triple Guarantee.
If your state licensing board does not accept any PDHengineer course or webinar:
We will give you a full refund
We will pay for a replacement course or webinar
We will pay any associated license renewal penalties
If you have any questions about PDHengineer.com's money-back guarantee, contact us.1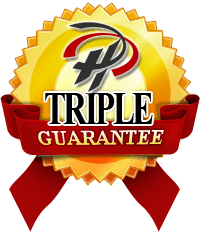 No PDHengineer course or webinar has ever been rejected by a state licensing board.
Be Careful Where You Earn PDHs
Be wary of providers that award more credit hours than is warranted by the length and complexity of the continuing education activity. If you are licensed in a state that pre-approves course providers or individual courses (such as Florida, New York, New Jersey, Maryland, Indiana, or North Carolina) and the organization is approved by your state board, then you should not have any problems with board acceptance of the activity. However, if your licensing board does not pre-approve course providers, then it is squarely on the shoulders of the individual engineer to determine whether an activity meets the board's acceptance criteria. Here is a checklist of features that you should consider when selecting a provider and a particular activity:
Are the credits awarded consistent with the length and complexity of the material?
Is the activity educational and does it expand your knowledge and skills? Some seminars sponsored by equipment vendors and manufacturers are heavy on "sales pitch" and light on technical content and would therefore be questionable in their acceptability.
Can a portion of the course material be viewed prior to purchase? This gives you the opportunity to judge whether the course content is suitable to meet your state board's requirements.
Does the provider use qualified instructors? Be wary if there is no author or instructor listed in the course listings or if the same author is listed for dozens of courses covering multiple disciplines. Most state board rules require continuing education activities to be developed or presented by persons with education and/or experience in the subject matter of the program.
Does the provider have adequate customer service personnel and assistance if needed? Are there established ways of receiving technical support in a timely manner? Also, many state boards require providers to have sufficient staff and facilities to maintain adequate records to substantiate credits earned. Without access to these records, your credits may be denied.
Does the provider offer a full refund if the activity is not accepted by your state licensing board?
How PDHengineer Protects You
PDHengineer.com takes the following measures to ensure that your PDH credits are accepted:
PDHengineer invests the time and expense to gain approval from the state licensing boards that pre-approve continuing education providers.
PDHengineer staff invests countless hours each year studying rule changes and corresponding with the state engineering licensing boards. Our PDH compliance expertise is unmatched in the industry!
PDHengineer provides online training that has been researched and written by professional engineers for professional engineers. Most PDHengineer Subject Matter Experts are licensed engineers possessing years, even decades, of professional engineering experience. Additionally, many PDHengineer Subject Matter Experts hold patents and have published books and technical articles in leading professional journals. Our Subject Matter Experts span the full spectrum of engineering disciplines offering unparalleled range of expertise.
PDHengineer employs rigid review and testing standards for every course to ensure that the subject matter expert is qualified to present the material and that the credits awarded are consistent with the time required to complete the course.
All courses offered on PDHengineer.com cover technical, managerial, or business skills content that meets the requirement of some or all of the engineering licensing boards. And state acceptance guidelines are clearly shown on each course overview page, making it easy to determine eligibility in your state.
An abridged "preview" version of each course can be viewed for free on PDHengineer.com so you can make your own determination whether the content is suitable to meet your PDH needs.
PDHengineer provides multiple contact methods to reach one of our knowledgeable continuing education specialists. Support is provided during normal business hours and after-hours until midnight each night.
PDHengineer maintains hard copies of all completion certificates for no less than 7 years, as well as on-site and off-site backup electronic copies.
PDHengineer.com backs up our courses with an unconditional money-back guarantee.
Don't take chances with your license renewal. Browse our course library to start earning your PDH risk-free.
1The PDHengineer Triple Guarantee applies to every PDHengineer course shown on the course overview page as "accepted" by the state's board. Due to laws in various states, some subject matter is not acceptable in certain states. Please check our website for state acceptability or call us at 1-877-PDHengineer (1-877-734-3644) for more information. Guarantee will not apply for states where the course, webinar, or teaching delivery method is not listed as "accepted." In states that limit the number of PDH that can be earned through online courses or webinars, or where restrictions apply to the number of hours that can be earned in specific subject areas, the guarantee will not apply to any credits earned in excess of the board's limit. To make a claim under the terms of The PDHengineer Triple Guarantee, just send a copy of the rejection letter issued to you by the board along with the course title to Triple Guarantee, PDHengineer.com, 7915 Cypress Creek Parkway, Suite 130, Houston, TX 77070 or email to support@PDHengineer.com. We will act promptly to assist you. Replacement course or webinar can be chosen from the PDHengineer course library and must be equivalent in number of PDH credits assigned. We reserve the right to change the terms and conditions of the PDHengineer Triple Guarantee at any time.