Excavation Hazards (Ohio T&M)
Course Number:
C-2001TM
Credit:
2 PDH
Subject Matter Expert:
Farah Labib Eldib, S.E., M.Sc.
Type: Timed and Monitored - designed for Ohio-licensed engineers.

Price: $59.90
Purchase using Reward Tokens.

Details

27 reviews
Overview
This course is specifically designed for Ohio-licensed engineers to qualify as a "timed and monitored" online course.
The course contains an automatic timer that prevents the user from accessing the quiz and earning a certificate of completion until the minimum amount of study time has been met. This achieves the Ohio Board's intent that an online course should be "paced" by the provider. For more information, please see the
Ohio state requirements
. This course may also be accepted in other states (see the "Board Acceptance" tab above). However, if you are not licensed in Ohio, it is suggested that you purchase the
self-paced version
of the course.
In Excavation Hazards , you'll learn ...
Important safety factors to consider when preplanning excavation work
Methods for identifying and evaluating various soil types
How to design, install, and remove protective systems to prevent cave-ins and related hazards
Guidelines for conducting site inspections and assessments
Overview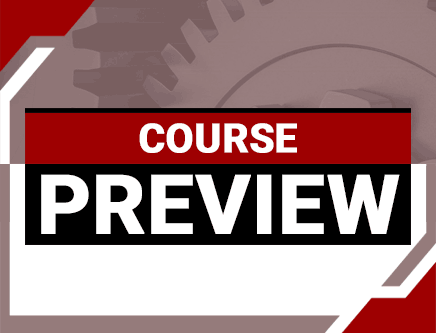 To meet the Ohio Board's intent that online courses be "paced" by the provider, a timer will be used to record your study time. You will be unable to access the quiz until the required study time of 100 minutes has been met.
Credit: 2 PDH
Length: 28 pages
Excavation and trenching are among the most hazardous construction operations. Cave-ins pose the greatest risk and are much more likely than other excavation-related accidents to result in worker fatalities. The United States Bureau of Labor Statistics (BLS) data show that 271 workers died in trenching or excavation cave-ins from 2000 through 2006. In addition to cave-ins, workers may also be exposed to the risks associated with combustible gases and oxygen deficiencies during trenching operations. Other potential hazards include falls, falling loads, and incidents involving mobile equipment. All of these hazards are recognized and preventable, yet injuries and fatalities related to trench work and excavation continue to occur.
In this course, you will learn how to protect employees against trench cave-ins and other hazardous conditions. You will also learn what you must do to comply with the Occupational Safety and Health Administration (OSHA) Excavation and Trenching standard, Title 29 of the Code of Federal Regulation (CFR), Part 1926.650. This course is relevant to business owners, engineers, managers, foreman, and any other personnel working in industries that require excavation and trenching operations.
Specific Knowledge or Skill Obtained
This course teaches the following specific knowledge and skills:
The dangers of excavation and trenching
Definitions of key terms related to excavation and trenching
An overview of soil mechanics: some frequent causes of trench failure
Distinguishing characteristics of various soil types
Test equipment and methods for evaluating soil types
Basic types of shoring and shielding systems
Various types of sloping and benching excavations
The proper placement of temporary and permanent spoil
OSHA's excavation and trenching standard
The measures employed to protect against cave-ins, water accumulation, hazardous atmospheres, underground utilities, and falling objects
Protective equipment required for confined footing excavations
Requirements for site inspections
Certificate of Completion
You will be able to immediately print a certificate of completion after passing a multiple-choice quiz consisting of 12 questions. PDH credits are not awarded until the course is completed and quiz is passed.
Board Acceptance
This course is applicable to professional engineers in:
Alabama (P.E.)
Alaska (P.E.)
Arkansas (P.E.)
Delaware (P.E.)
Florida (P.E. Area of Practice)
Georgia (P.E.)
Idaho (P.E.)
Illinois (P.E.)
Illinois (S.E.)
Indiana (P.E.)
Iowa (P.E.)
Kansas (P.E.)
Kentucky (P.E.)
Louisiana (P.E.)
Maine (P.E.)
Maryland (P.E.)
Michigan (P.E.)
Minnesota (P.E.)
Mississippi (P.E.)
Missouri (P.E.)
Montana (P.E.)
Nebraska (P.E.)
Nevada (P.E.)
New Hampshire (P.E.)
New Jersey (P.E.)
New Mexico (P.E.)
New York (P.E.)
North Carolina (P.E.)
North Dakota (P.E.)
Ohio (P.E. Timed & Monitored)
Oklahoma (P.E.)
Oregon (P.E.)
Pennsylvania (P.E.)
South Carolina (P.E.)
South Dakota (P.E.)
Tennessee (P.E.)
Texas (P.E.)
Utah (P.E.)
Vermont (P.E.)
Virginia (P.E.)
West Virginia (P.E.)
Wisconsin (P.E.)
Wyoming (P.E.)
Reviews (27)
More Details