An Introduction to Identification and Classification of Soil and Rock (Ohio T&M)
Course Number:
G-2001TM
Credit:
2 PDH
Subject Matter Expert:
J. Paul Guyer, P.E., R.A.
Type: Timed and Monitored - designed for Ohio-licensed engineers.

Price: $59.90
Purchase using Reward Tokens.

Details

16 reviews
Overview
This course is specifically designed for Ohio-licensed engineers to qualify as a "timed and monitored" online course.
The course contains an automatic timer that prevents the user from accessing the quiz and earning a certificate of completion until the minimum amount of study time has been met. This achieves the Ohio Board's intent that an online course should be "paced" by the provider. For more information, please see the
Ohio state requirements
. This course may also be accepted in other states (see the "Board Acceptance" tab above). However, if you are not licensed in Ohio, it is suggested that you purchase the
self-paced version
of the course.
In An Introduction to Identification and Classification of Soil and Rock , you'll learn ...
Pertinent engineering characteristics for different types of soils
Definitions of soil components and fractions
Methods to identify soils visually and through field testing of samples
How to classify soils and rock
Overview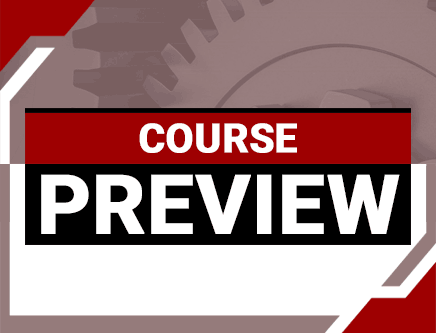 To meet the Ohio Board's intent that online courses be "paced" by the provider, a timer will be used to record your study time. You will be unable to access the quiz until the required study time of 100 minutes has been met.
Credit: 2 PDH
Length: 24 pages
This course will introduce you to the principles and practices of identification and classification of soil and rock. Identification and classification are the essential first steps in soil mechanics and engineering, and engineering of foundations for structures such as buildings, dams and bridges. Without an understanding of the soil and rock materials you must work with on a specific project, analysis and engineering design cannot proceed. This course will give you an introduction to soils and rock that will allow you to move forward in your knowledge and understanding through use of design manuals and more advanced treatises.
Specific Knowledge or Skill Obtained
This course teaches the following specific knowledge and skills:
The importance of the geologic origin and mode of occurrence of soils
Residual and organic sedimentary soils
The different types of aeolian soils and their properties
The properties of glacial soil deposits
How to identify marine, colluvial and pyroclastic soils
The definitions and terminology associated with soil fractions and components
The Unified Soil Classification System and how to use it with visual and laboratory classification methods
The Standard Penetration Test and Atterberg Plasticity Limits
The properties of igneous, metamorphic and sedimentary rock
The principles and terminology of rock weathering and discontinuities
Certificate of Completion
You will be able to immediately print a certificate of completion after passing a multiple-choice quiz consisting of 25 questions. PDH credits are not awarded until the course is completed and quiz is passed.
Board Acceptance
This course is applicable to professional engineers in:
Alabama (P.E.)
Alaska (P.E.)
Arkansas (P.E.)
Delaware (P.E.)
Florida (P.E. Area of Practice)
Georgia (P.E.)
Idaho (P.E.)
Illinois (P.E.)
Illinois (S.E.)
Indiana (P.E.)
Iowa (P.E.)
Kansas (P.E.)
Kentucky (P.E.)
Louisiana (P.E.)
Maine (P.E.)
Maryland (P.E.)
Michigan (P.E.)
Minnesota (P.E.)
Mississippi (P.E.)
Missouri (P.E.)
Montana (P.E.)
Nebraska (P.E.)
Nevada (P.E.)
New Hampshire (P.E.)
New Jersey (P.E.)
New Mexico (P.E.)
New York (P.E.)
North Carolina (P.E.)
North Dakota (P.E.)
Ohio (P.E. Timed & Monitored)
Oklahoma (P.E.)
Oregon (P.E.)
Pennsylvania (P.E.)
South Carolina (P.E.)
South Dakota (P.E.)
Tennessee (P.E.)
Texas (P.E.)
Utah (P.E.)
Vermont (P.E.)
Virginia (P.E.)
West Virginia (P.E.)
Wisconsin (P.E.)
Wyoming (P.E.)
Reviews (16)
More Details