Learning from Engineering Disasters (Ohio T&M)
Price: $29.95
Purchase using Reward Tokens.

Details

12 reviews
Overview
This course is specifically designed for Ohio-licensed engineers to qualify as a "timed and monitored" online course.
The course contains an automatic timer that prevents the user from accessing the quiz and earning a certificate of completion until the minimum amount of study time has been met. This achieves the Ohio Board's intent that an online course should be "paced" by the provider. For more information, please see the
Ohio state requirements
. This course may also be accepted in other states (see the "Board Acceptance" tab above). However, if you are not licensed in Ohio, it is suggested that you purchase the
self-paced version
of the course.
In Learning from Engineering Disasters, you'll learn ...
Types of engineering failures
The difference between a critical flaw and a process flaw
The various failure mechanisms that occur in the design, production and operational phases of engineered systems
The methodology used in learning from disasters
Overview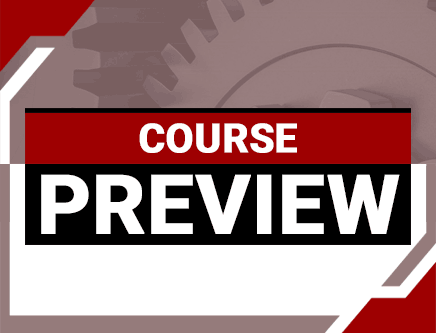 To meet the Ohio Board's intent that online courses be "paced" by the provider, a timer will be used to record your study time. You will be unable to access the quiz until the required study time of 50 minutes has been met.
Credit: 1 PDH
Length: 17 pages
Every engineering disaster exhibits fundamental learning points that are instructive across engineering disciplines. The ability to learn from major accidents in different industries and specialties is essential to the engineer's practice of safe engineering. This course introduces nomenclature and analysis techniques useful when analyzing major engineering disasters.
This course will not provide sufficient expertise to perform a root cause or forensics investigation. The ability to analyze an engineering disaster will not be tested at the conclusion of this course, though the methods will be presented at a high level. For those who are interested in delving deeper into this subject, additional courses are available on this website that will build on this foundation by applying these techniques to major engineering disasters and the multi-discipline lessons that may be learned from each.
This course is appropriate for engineers of any discipline.
Specific Knowledge or Skill Obtained
This course teaches the following specific knowledge and skills:
Identify major subsets of failure types
Introduction to root cause analysis
A formal approach to identify lessons learned from engineering failures outside the learner's core expertise
Introduce nomenclature and methodology through basic case studies
Certificate of Completion
You will be able to immediately print a certificate of completion after passing a multiple-choice quiz consisting of 10 questions. PDH credits are not awarded until the course is completed and quiz is passed.
Board Acceptance
This course is applicable to professional engineers in:
Alabama (P.E.)
Alaska (P.E.)
Arkansas (P.E.)
Delaware (P.E.)
Florida (P.E. Area of Practice)
Georgia (P.E.)
Idaho (P.E.)
Illinois (P.E.)
Illinois (S.E.)
Indiana (P.E.)
Iowa (P.E.)
Kansas (P.E.)
Kentucky (P.E.)
Louisiana (P.E.)
Maine (P.E.)
Maryland (P.E.)
Michigan (P.E.)
Minnesota (P.E.)
Mississippi (P.E.)
Missouri (P.E.)
Montana (P.E.)
Nebraska (P.E.)
Nevada (P.E.)
New Hampshire (P.E.)
New Jersey (P.E.)
New Mexico (P.E.)
New York (P.E.)
North Carolina (P.E.)
North Dakota (P.E.)
Ohio (P.E. Timed & Monitored)
Oklahoma (P.E.)
Oregon (P.E.)
Pennsylvania (P.E.)
South Carolina (P.E.)
South Dakota (P.E.)
Tennessee (P.E.)
Texas (P.E.)
Utah (P.E.)
Vermont (P.E.)
Virginia (P.E.)
West Virginia (P.E.)
Wisconsin (P.E.)
Wyoming (P.E.)
Reviews (12)
More Details