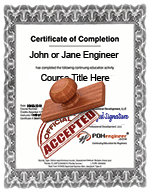 After you have attended the webinar, return to the PDHengineer.com website and click the My Account link at the top of any of our pages. Once you have logged in, select My Courses/Webinars to view the list of courses and webinars you have purchased. Under the Webinars Scheduled section click on the webinar title, then click on the link for Online Survey under Step 3.
Once you have completed the short survey regarding how well the webinar met the learning objectives, you will see a link that allows you to download and print your certificate. If you wish to view the certificate or print additional copies in the future, simply click My Courses/Webinars from the My Account menu to see a link to download the certificate.
Webinar attendees who are licensed in the state of Ohio must also complete a short quiz before downloading a certificate of completion valid for Ohio.
If the survey is not available to you, it may be that your attendance was not recorded. This will occur when you are not present for the roll call at the beginning of the webinar. Contact our Customer Service Team for assistance.